Pamungkas, Indra Novianto Adibayu and Herawati, F. Anita and Suminar, Erna and Nuryana, Arief and Sutrisno, Sutrisno and Razak, Razie and Santoso, Didik Haryadi and Taufiq, Ahmad and Ramadhana, Maulana Rezi (2019) Perspektif Komunikasi Organisasi (Tantangan Teoritis dan Impelementasi di Lapangan). Mbridge Press.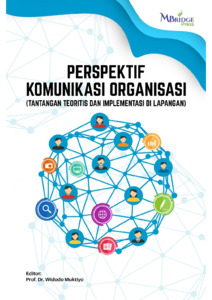 Preview
Text (BUKU)




BUKU KOMUNIKASI ORGANISASI_New Media & New Organizational Comm.pdf


Download (1MB) | Preview
Abstract
Melalui buku ini para penulis tidak hanya mengeksplorasi
teori, aplikasi dan problematika komunikasi organisasi secara
gamblang melainkan juga berupaya memberikan catatancatatan kritis dan reflektif atas permasalahan yang belakangan
ini terjadi. Buku ini dapat dijadikan referensi, tidak hanya bagi
para mahasiswa atau akademisi melainkan juga dapatviii
dimanfaatkan untuk para praktisi dan pengelola organisasi
atau institusi, serta masyarakat luas secara umum yang
tertarik dengan telaah-telaah mengenai komunikasi organisasi.
Buku ini merupakan karya bersama para mahasiswa program
S3 Ilmu Komunikasi UNS yang sedang mengambil mata kuliah
teori komunikasi pada tahun ajaran 2018/2019 yang diampu
oleh Prof.Dr. Widodo Muktiyo. Semoga buku ini dapat
menambah wawasan tentang ilmu komunikasi khususnya
mengenai komunikasi organisasi. Akhir kata, selamat
membaca!
Actions (login required)