Kusmayadi, Andri and Zuprizal, Zuprizal and Supadmo, Supadmo and Dono, Nanung Danar and Yuwanta, Tri and Wati, Ari Kusuma and Martien, Ronny and Sundari, Sundari (2015) The Effect of Liquid Nanocapsule Level on Broiler Fat Qualit. The 6th ISTAP International Seminar on Tropical Animal Production "Integrated Approach in Developing Sustainable Tropical Animal Production". pp. 76-79. ISSN 978-979-1215-26-8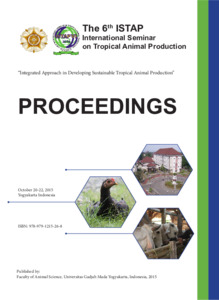 Preview
Text (PROSIDING)




20. Proceeding ISTAP 2015 (Andri).pdf


Download (1MB) | Preview
Abstract
This research investigated the effects of liquid extract turmeric nanocapsule levels
in drinking water on abdominal and subcutan fat and meat fatty acid of broiler chickens. Eightyfour Lohmann broiler chicks MB-202 were randomly divided into 7 treatments with 3 replications,
each complied 4 broilers. Seven treatments were: drinking water (DW) + 12 mg/1000 ml additive
bacitracin (P1), DW only (P2), DW + 2% liquid nanocapsule (P3), DW + 4% liquid nanocapsule
(P4), DW + 6% liquid nanocapsule (P5), DW + 8% liquid nanocapsule (P6) and DW + 10% liquid
nanocapsule (P7). The analyzed variables covered level and weight of abdominal fat, subcutan fat
level and meat fatty acid composition of broiler chickens. The data were subject to one way ANOVA
analysis followed by Duncan's test in case of signifcant effect. The results showed that the liquid
nanocapsule levels had non signifcant (P>0.05) effects on weight and level of abdominal and
subcutan fat. However, liquid nanocapsule provided a positive influence on fatty acid composition
and the ratio of omega-3 and omega-9 in broiler chicken meat. The use of liquid nanocapsule at
low level (2%) equivalent to 1.73 mg/100 ml curcumin resulted in the lowest weight of abdominal
and subcutaneous fat level. While liquid nanocapsule at medium level (6%) equivalent to 4.31 mg
/100 ml curcumin had complete composition of meat fatty acid with EPA/DHA and 5: 1 omega-3
and omega-6 as a functional food.
Actions (login required)